Traveling by air is a source of greenhouse gas emissions. According to a report by the Rhodium Group, the estimated overall carbon dioxide discharge rose to 3.4 percent in 2018. Emissions from air travel contributed to this increase.
With carbon dioxide emissions on the rise, scientists are working hard to limit the production and release of CO2 in the atmosphere. One project that could help reduce the amount of carbon dioxide emissions produced by air travel is to make biofuel out of used cooking oil.
The Process of Turning Used Cooking Oil to Biofuel: An Overview
Cooking oil, by itself, is completely unusable as fuel. The oil needs to undergo several steps before using it as biodiesel.
The first step involves sourcing quality used cooking oil. When it comes to the type of oil, olive or canola oil used by commercial food establishments are usually the best options for producing biofuel.
The liquid should appear darker than unused or fresh vegetable oil. Cloudy or milky oil is not suitable for fuel production, because it likely contains excessive amounts of animal fat or water content. Both substances will interfere with the biofuel transformation process.
Filtering the used oil is the second step of the conversion process. It entails heating and reheating the oil to a certain temperature and using a filter to catch food and dirt particles.
Determining the used cooking oil's acidity, also known as titration, is necessary to achieve a good final product. This includes testing the oil with substances, such as lye, isopropyl alcohol, and phenolphthalein solution. If the oil is highly acidic, the producer can add more base to neutralize the acid and achieve quality biodiesel.
Companies that Plan to Use (and Are Using) Cooking Oil as BioFuel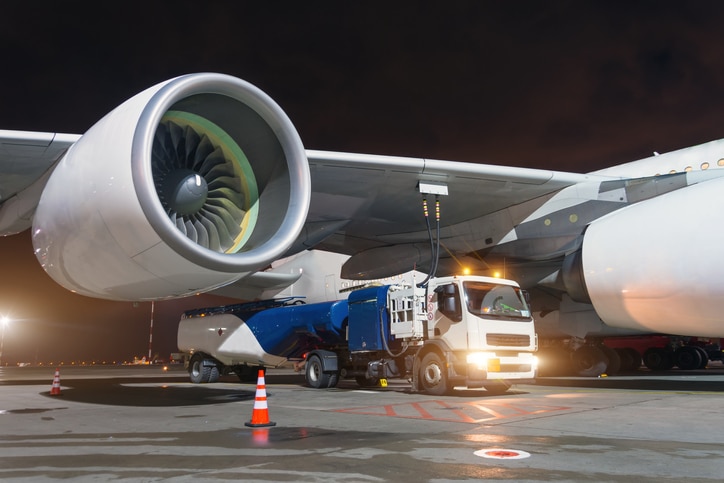 A few organizations are looking to utilize used cooking oil as a biofuel. Boeing, an aircraft giant, believes that it can turn China's excess waste oil into a renewable and clean source of aviation fuel. According to the company's press release, Boeing plants to convert over 500 million gallons of waste cooking oil into sustainable jet fuel at a new facility. The aircraft giant expects to reduce its carbon dioxide emissions by 50 to 80 percent.
While some companies are considering using cooking oil as an alternative source of fuel, some airlines are already utilizing the oil to power their next flight. KLM, a Dutch airline, started using a mix of 75 percent regular aviation fuel and 25 percent cooking oil to power some commercial flights in 2013. The airline used the fuel mix on roundtrip transatlantic flights between Amsterdam's Schipol Airport and New York's John F. Kennedy International Airport.
The leftover cooking oil used by KLM comes from restaurants in the southern part of Louisiana. Before the waste oil goes to New York, it goes through the refinement process at a facility near Baton Rouge.
While the biofuel releases a "fast food" aroma, the converted oil offers the same flying experience and is safe for use on large airplanes. On top of that, eco-friendly fuel cuts down greenhouse gas emissions by as much as 80 percent.
Captain Rick Shouten, a pilot who flew an airplane with fuel mixed with waste cooking oil, said that the biofuel is impossible to tell apart from regular jet fuel on a molecular level. He added that using an aircraft with renewable fuel was just like flying a normal plane.
Current Challenges of Using Recycled Cooking Oil as Biofuel
Despite the promising findings of waste cooking oil as an aviation fuel alternative, it needs to overcome a few barriers.
At this time, flying completely on biodiesel fuel is not yet possible. Mixing the renewable energy source with conventional fuel is required when powering an airplane. Jet fuel must contain aromatics, a tiny amount of ring-shaped organic molecules. Aviation biofuel, unfortunately, does not have these molecules.
Availability of the used oil is another problem. Getting enough biofuel to meet the required volume can be difficult. While leftover cooking oil may be plentiful in some countries, like China, it's not that common in other places, such as Europe.
There is also the issue of cost. Biofuel is around two to three times more expensive when compared to traditional fossil fuel. The high price discourages industry players from investing in the alternative fuel source.
Thankfully, solutions exist for some of these problems.
Governments can come up with policies to help encourage the use of biofuel. Some countries around the world, such as China, are pushing to turn the leftover cooking oil into renewable fuel.
When it comes to the production side of biofuel, scientists can perform research to figure out how to boost renewable fuel conversion yield to help decrease the cost.
One Airline is Not Backing Down from the Hurdles
Despite the problems like limited availability and high costs, KLM (mentioned above) plans to continue the strategy of using waste cooking oil to fuel their planes.
An effort to "go green" is taking place across the aviation industry as a whole. The International Air Transport Association (IATA) says that airlines have committed to cut down carbon dioxide emissions and fuel consumption by at least 25 percent in 2020.
Nationwide Buyer of Used Cooking Oils
Do you have leftover cooking oils? Instead of throwing the waste product in the garbage, sell it to GF Commodities. We are a nationwide buyer of used cooking oils. Our company has the resources to purchase and take these waste products from your commercial kitchen or food processing plant and safely sell them to industries that need them, such as the aviation sector.
We value transparency by providing our customers with an indexed, all-inclusive, and simple price for their products.
What are you waiting for? Start earning extra cash from your used cooking oil today. Reach out to us to get started.